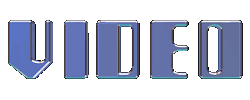 Page 17
To play video clips, place your cursor over the monitor when the default screen disappears.
Please be patient as these are large files and will take some time to load.
If you would like to preview these clips in Real Media click on the "Real Moon" below.

ITC Logo Custom Extended Version
Always a fan of the ITC logo, I created this version
to open a DVD I made for the Earthbound: 2005 convention.