With the release of the A&E bonus disc in a plain white sleeve,
I thought it might be cool to create a cover that would match the rest of the set.*
Click on the image below for the full sized JPEG, or here for a PDF file.
PDF files require Adobe Reader which is downloadable for free from Adobe.
This format may help with difficulties that some people had in printing the JPEG version.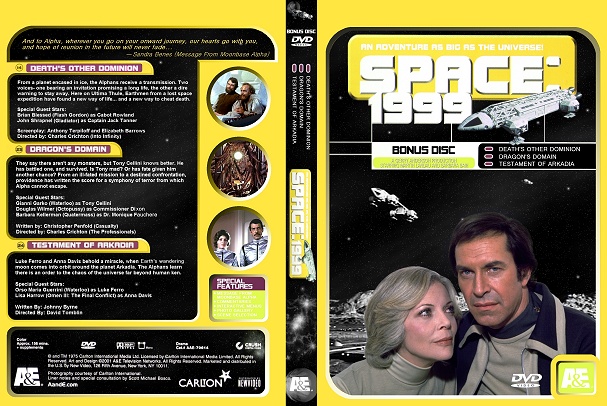 *For those of you wondering what I'm talking about...
A&E has re-mastered some of the worst looking first season episodes, i.e. episodes that were too dark, had blurring, or color problems. If you are wondering why you might want to spend the money again (if you already have the DVDs) for these episodes, they have sweetened the deal by adding these special features:


3 Complete Episodes - Newly remastered from recently unarchived materials, featuring in-depth behind-the-scenes running audio commentary:
Testament of Arcadia - featuring commentary by series co-creator Sylvia Anderson
Dragon's Domain - featuring commentary by episode writer Johnny Byrne & Year 1 Story Consultant Christopher Penfold
Death's Other Dominion featuring commentary by series expert Scott Michael Bosco

The Space 1999 DVD Bonus Disc also includes:

World Premiere of the fan-produced series ending "Message from Moonbase Alpha"
Vintage Interview with Year 2 Set Designer Keith Wilson
Alternate Sequences from Key Episodes
Extensive Photo Galleries, Including:
- Gallery of Original Series Memorabilia
- Gallery of Stills from Deleted and Alternate Scenes
- Gallery of Behind-the-Scenes General Production Stills
- Gallery of Behind-the-Scenes SFX Stills
The sleeve it is shipped in: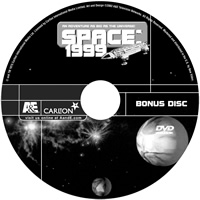 This disc was originally included in certain Mega-sets but is now available separately.

It is unavailable for shipment outside the U.S. and Canada from A&E.
While I have not dealt with this company, it is available for those outside of the USA through DC-DVD.

This is a fan film made from footage of Barry Morse filmed at a convention.
This film was lost and recently found, and with the technical wizardry of the folks at Retcon Studios,
was turned into a wonderful love letter to the fans from both Barry Morse and Victor Bergman.
The cover is along the style of the A&E covers, but since they have no involvement with this film,
their logo is not used, and the design was simplified.
Click on the image below for the full sized JPEG, or here for a PDF file.