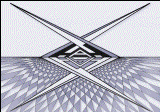 | | |
| --- | --- |
| Alpha signals a habitable planet as they enter it's system. They receive no reply, but as they come into close range, three Earth-style Mark IX Hawks approach the base. They try to contact the ships with no luck. Three Eagles are launched and take up defensive positions over Alpha. | |
| | When the Hawks are in striking range, and still have not responded to hails, Koenig orders a preemptive strike. The Hawks are destroyed, but are immediately replaced by three more, which devastate Alpha and a second wave of Eagles before they can be |
| engaged by the first wave of Eagles. Two Hawks are destroyed and two Eagles are lost. Alan's Eagle is damaged and "plays dead" in space. A large alien "bomber" approaches the base, which is so badly damaged that they cannot defend themselves or launch | |
| | another Eagle. Alan restarts his Eagle and blasts the bomber out of the Alphan sky. He returns to Alpha where a meeting is held to discuss the status of the base. With 128 Alphans dead, they are unable to repair the power and recycling plants in time to save themselves. |
| Koenig decides to that he and Helena should go down to the planet to try to convince it's leaders to discuss their situation. They do not receive any answers to their signals, but meet with no resistance as they approach the planet. Their Eagle is then brought in, by remote | |
| | control, to a city and lands. They are transported to a chamber where they meet two of the planet's inhabitants. Koenig asks why his base was attacked when they come in peace. He tells them that half of his peole are dead and his base can no longer support human life. |
| The aliens tell them that Man is "a fatal virus"... "a plague of fear", with "no place in space", and "no future". And that the Alphans presence on their planet would destroy a civilization that had survived for billions of years. Koenig cannot accept this judgement, and begins | |
| | to destroy the delicate equipment in the chamber. The female alien shoots and kills him. Helena is allowed into the "brain" which the aliens inhabit. She is given the power to restore Koenig to life. Unable to remove Helena from the "brain", John leaves to get some |
| support and fire power, as he has decided to take some space on the planet, by force if need be. He initiates Operation Exodus and arranges to change to an armed Eagle in space. He and Alan then attempt to return to the planet, only to be confronted by a forcefield. | |
| | Their Eagle starts to break up, and they eject as it explodes. Alan is killed and Koenig is adrift in space with only 97 minutes of oxygen. Within the "brain" Helena can sense Koenig's plight. She decides to save him despite the alien's warnings that he will destroy them all. |
| Koenig is brought back to the planet by Helena. He fires his stun gun at the male alien within the "brain" and starts a chain reaction which devastates the planet. He tells the rest of the Alphans, en route to the planet, to return to the base, if they are going to die | |
| | somewhere, it might as well be Alpha... Then we are returned to the moment before Koenig orders the Eagles to fire on the Hawks. This time he orders Alan to stand down. The Hawks disappear from their screens and sensors. Victor is baffled by this turn of events, and |
| wonders if this means they can go down to the planet. The male alien appears on the main screen to tell them "No", that the Alphans were shown, in an instant, the possible consequences for a decision that the aliens hoped they would not make. | |

This Episode
Screenplay..............................................................Christopher Penfold

Director......................................................................Charles Crichton

Guest Stars

Male Alien................................................................Anthony Valentine

Female Alien.........................................................................Isla Blair

Random Thoughts
War Games is probably one of the best remembered episodes of the series. Not only does it have great battle scenes... plenty of destruction (and effects shots), the like of which was just not seen on episodic television before. Just think about it. When did you ever see the Enterprise actually damaged? The closest they ever got to showing damage, was filming the model hanging crooked in space! Contrast that, to shots like these...
Add to that, one of the finest dramatic moments of the series, the monologue that Victor records (for anyone who finds the empty shell of Alpha) as Operation Exodus nears completion, is both moving and thought provoking, and never fails to choke me up.
I also love the alien city in this episode. It is just really cool! What can I say?
Now that I have glowed over the highpoints of this episode, I think it is time to pick a few nits... there is a a small conitnuity error in this episode when the fleet of Eagles leaves Alpha for the planet, the base is not damaged at all. This is probably because this is the same footage used in Guardian of Piri for Operation Exodus. Which brings me to the subject of a new section that will appear occasionally in addition to "Random Thoughts", it will be called...
Deja View
In this section we will take a look at, or rather, take a second look at, some of things that appear more than once in the series. This will include reused models, stock footage, and actors who reappear in different roles etc. First off, the nameless alien planet looks eerily like Piri, especially as we see it over the Main Mission tower.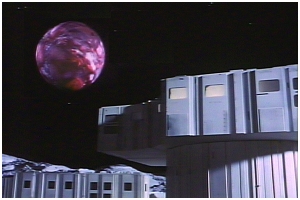 Speaking of look-alikes, the bomber in this episode can be spotted in the episode "Alpha Child". Perhaps this is because the aliens used the Alphans' memories to create the illusion of ships attacking the base.... Naaah!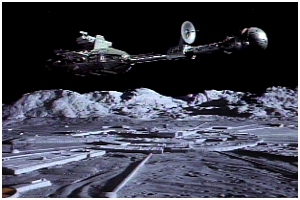 As always, any comments, feedback, or suggestions for future appearances of "Deja View" are welcome. You can contact me by using the commlock in the Communication Centre.


Sound Files