While I realize that The Taybor is not one of the more highly regarded episodes of the second season, I have to say that I actually like it. One of the highlights, for me anyway, is Derek Wadsworth's score. The main theme for the S.S. Emporium is light and playful, and the music for the cannon appearing is wonderfully threatening. There are exciting action cues, and the theme for hyperspace is full of wonder and mystery. One cue which does not work as well in the episode, as it does just listening to it, is for the scene when Maya demands to be returned to Alpha, but it is mixed very low in the episode and does not interfere with the viewing experience. It is a shame they did not use it in another episode (that I am aware of). You can check out a few of the tracks written for The Taybor, in MP3 format, on the Year 2 MP3 page.
Despite a slightly cartoonish script, I think Willoughby Goddard does a very good job as Taybor. He seems very natural in the part, especially in scenes like the one where he talks about his "humble origins". I think he does as much as possible with the character as it is written. And you have to love the "rooster comb" hairdo!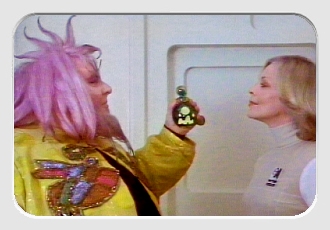 I love the design of the Emporium. It has a funhouse look that fits Taybor's "sideshow barker" personality. He even delivers a line of dialogue that reinforces that analogy. When Helena explains that some of the crew were injured by his gifts, he replies "...if there's anything I can do, I have excellent medicines to do wonders for all kinds of complaints." as though he is going to try to sell her a panacea.
I thought Martin Landau did an excellent job in the scene where he tries to convince Taybor to accept a duplicate Maya. He was almost hypnotic as he lowered his voice, and repeated key selling points, as he told Taybor about it. He truly is as adept a trader as Taybor!
I found it interesting that Koenig was so sure that the limpet transmitter would allow them to contact Taybor's ship after it jumped, when the Alphans appeared to have no knowledge of hyper-space whatsoever.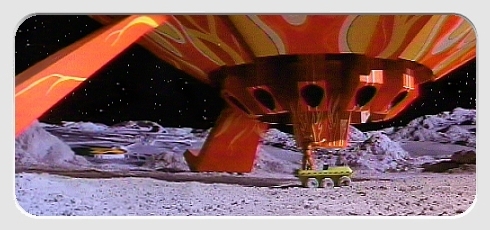 I also found it interesting how similar the necklace that Taybor gave Maya was to the one she already owned. Perhaps that was how he selected it.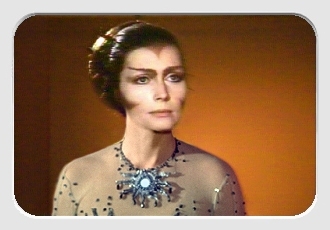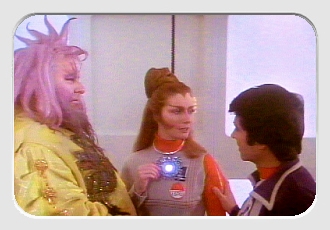 There is a small goof in the episode when Helena descibed the memory amplifier as cylindrical, when it is pictured as hexagonal.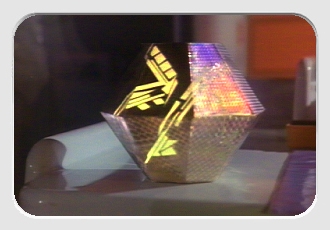 There is some really nice character developement in this episode. We get to see some of the Alphans hobbies via the trading session with Taybor; things like Doctor Vincent's ship in a bottle, Yasko's bansai tree, Kate's sweater, and so on. It was also nice to see the friendship between Maya and Helena displayed when Maya had to show Helena the necklace given to her by Taybor.
I think this episode succeeds, when taken as the playful romp it was clearly meant to be. Any replies to comments made here are always welcome. You can contact me by using the commlock in the
Communication Centre.