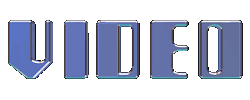 Page 10
To play video clips, place your cursor over the monitor when the default screen disappears.
Please be patient as these are large files and will take some time to load.
If you would like to preview these clips in Real Media click on the "Real Moon" below.

Space: Eternal
Christopher Paulsen conceived of, and produced this short film (8 min 32 sec),
with source material provided by; and directed by Ken Parker,
based on Space: 1999 for the Main Mission: 2000 convention.
This film was created for promotional purposes only,
and no copyright infringement was intended.
Click here for a note from Chris Paulsen about Space: Eternal.
I think the combination of the footage of Space: 1999 combined with Beethoven's 7th symphony, and the
dramatic music from John William's score for "Nixon", with the brief, but extremely apropos, introduction
from Carl Orff's "O Fortuna" from "Carmina Burana", creates a truly dramatic and exciting retrospective of the series.
Special thanks to Chris Paulsen for creating this wonderful film, and his kind permission for me to share it with you.